Course and participation record hit in the 2019 Suzuki Midnight Sun Run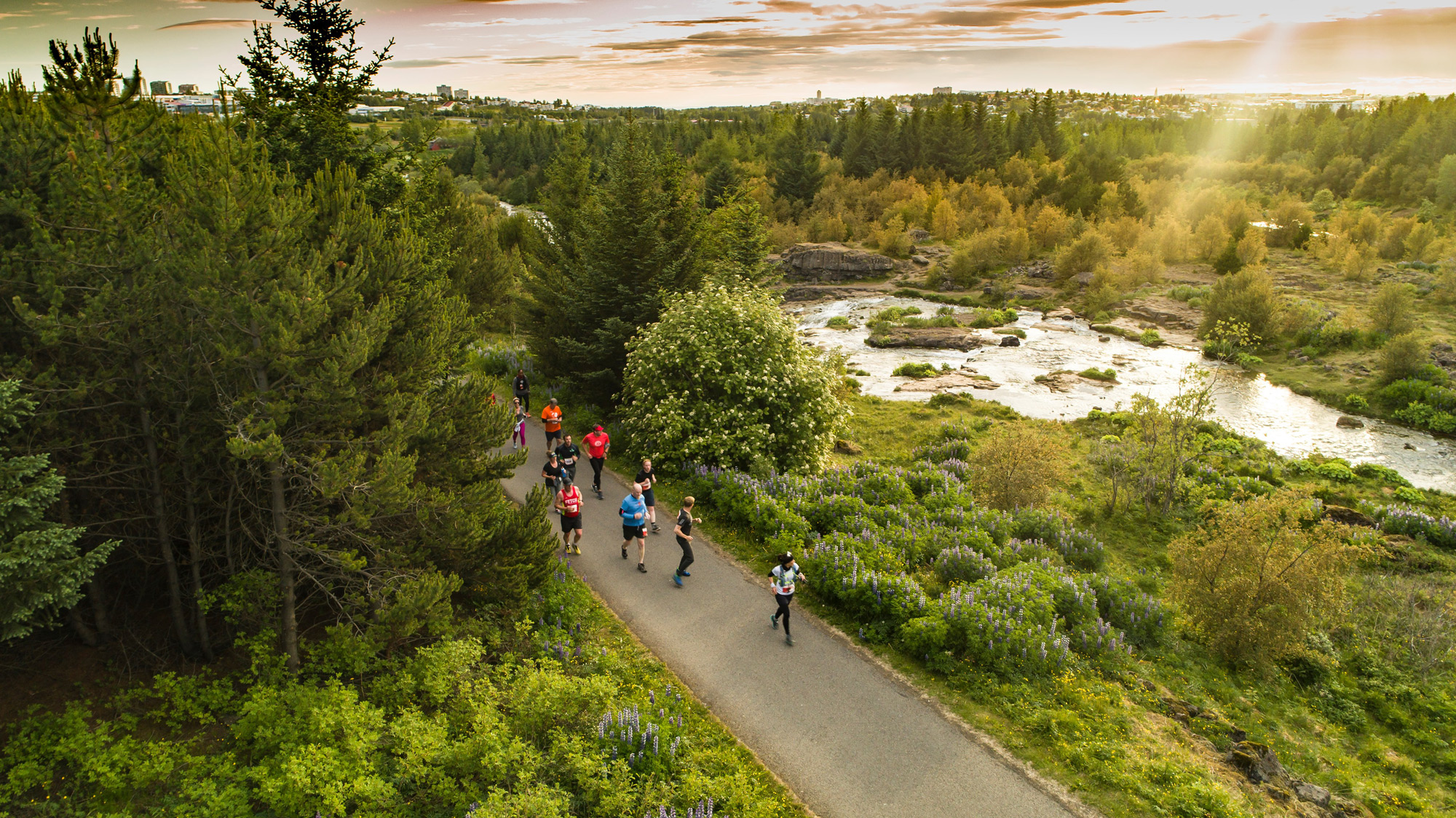 The 2019 Suzuki Midnight Sun Run took place tonight for the 27th time.
This years event was a record breaking one with 3015 participants. Foreign participants where 1200 and came from 57 different countries. The weather was perfect for running. It staid dry and the sun was shining which made up for some spectacular sun set views. Many participants took the opportunity to go swimming in Laugardalslaug Geothermal Pool to recover after the run.
One course record was broken tonight when Andrea Kolbeinsdóttir from Iceland was the first woman to cross the finish line in the 5 km race.
Medalists this evening where as follows:
Half marathon male
Arnar Pétursson, ISL, 01:10:20
Alex MM Russeau, USA, 1:11:56
Adrian Graczyk, POL, 1:16:5
This is the second year in a row that Arnar comes first in men's half marathon in the Suzuki Midnight Sun Run. His finishing time is the 5th best in the half marathon. Arnar was in the lead from the very start and finished in a convincing way.
Half marathon female
Marissa Saenger, USA, 1:29:14
Michelle Hazelton, USA, 1:29:15
Íris Dóra Snorradóttir, ISL, 01:31:17
Marissa and Michelle, both from the USA, had a very exciting last few meters of the race with only a second between the two. Their finishing times are the 7th and the 8th best in this race since it first took place.
10 km male
Þórólfur Ingi Þórsson, ISL, 33:2
Rimvydas Alminas, LTU, 33:54
Björn Snær Atlason, ISL, 37:09
Þórólfur finished first in this years race and now has the 4th best time in the race for men's 10 km.
10 km female
Elín Edda Sigurðardóttir, ISL, 36:50
Arndís Ýr Hafþórsdóttir, ISL, 38:00
Sigþóra Brynja Kristjánsdóttir, ISL, 38:21
This is Elín Edda's third year taking the 1st place in this 10 km race. Last year she broke the course record with the finishing time 36:19. This year she was not far off, finishing at 36:50 which is the second best women's 10 km finishing time in the race.
5 km male
Vilhjálmur Þór Svansson, ISL, 16:00
Hlynur Ólason, ISL, 16:07
Maxime Sauvageon, FRA, 16:32
Last year, Vilhjálmur came second in the 5 km race with the finishing time 16:28. He now managed to beat his own record by 28 seconds. This means that Vilhjálmurs finishing time for this year's race was the 5th best in the 5 km race.
5 km female
Andrea Kolbeinsdóttir, ISL, 17:34
Helga Guðný Elíasdóttir, ISL, 19:24
Eva Skarpaas, ISL, 20:34 
Andrea set a new course record this year in the 5 km race. The old record was 18:00 and was set by Guðlaug Edda Hannesdóttir in 2016.
Few photos from the race and the photo booth in Laugardalshöll are now available at Facebook and Instagram. More photos will be available after the weekend. The beautiful photo at the top was taken by Ólafur Þórisson.
Thank you for taking part and congratulations.
Next race will be on June 25th 2020.