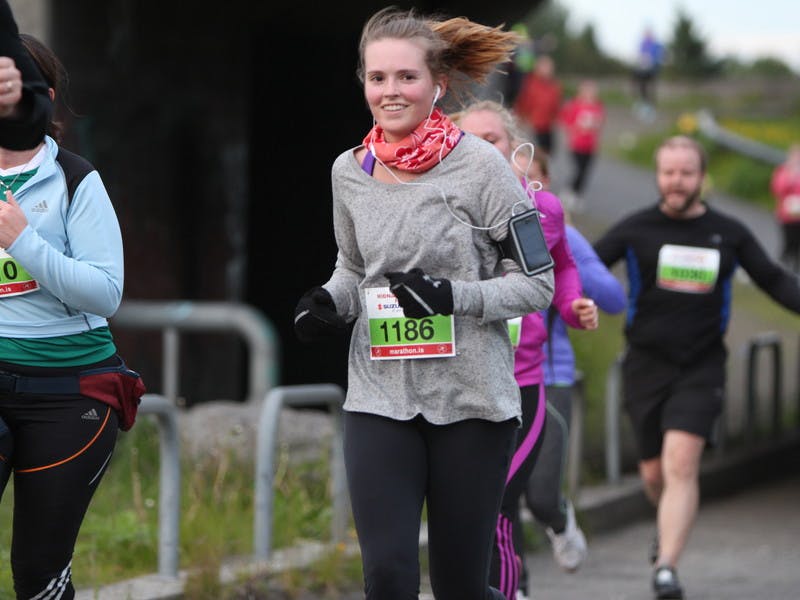 The 10 km distance has been available from race one. In 2012 a new and better course was used and has been used since then. Around 1000 runners take part in this distance every year.
Participants

The 10 k race is intended for people that have reached the age of 12 and is not expected that children under that age participate. 

Registration

Registration should be done online here at midnightrun.is. It will also be possible to register at the race number pickup on race day but then the entry fee will be higher. Click here for further information about the Suzuki Midnight Sun Run registration. 

Refreshment stations

Toilets

Participants in the Suzuki Midnight Sun Run can use the bathrooms at Laugardalshöll sports hall (number pickup). Temporary toilets are also available at the finish area behind the Ice skating Rink and in Elliðaárdalur Valley by the dam (after about 5k).

Prizes

In the registration process participants in the Suzuki Midnight Sun Run can choose whether or not to receive a medal when they cross the finish line. Therefore all participants can receive a medal if they want to.

In the 10 k race prizes are awarded to the first three men and women as well as the first man and woman from each age group. See further information about the prizes available in the Suzuki Midnight Sun Run here.

Timing

Timing is done with the mylap system. All partisipants must securely fasten the timing chip they receive, in their race package, to their shoelaces. The chip is linked to the participants name and number. Timing mats are crossed in the start and at the end of the race so runners will get both their personal time (chip time) and gun time. Gun time is used to rank runners and prizes are given according to gun time. Click here for further information about timing.

The course

The 10 k course starts just outside the Laugardalshöll sports hall in Laugardalur. Runners will make their way out of the beautiful valley Laugardalur following its streets. Then participants run through a deep rooted residential area before entering Elliðaárdalur. Elliðaárdalur valley is one of Reykjavik's most popular outdoor areas. Through the valley run the famous salmon rivers Elliðaár which the valley is named after and runners will run along side. Although participants start the race on the streets the course mainly follows paths. The 10 km course is demanding, hilly and steep from km 3 to 5.

The course is measured by certified AIMS measurer and accredited by the Icelandic Athletic Federation.

Click here to view a map of the course.

Further information

Send us an e-mail to [email protected] if you need further information about the 10 k race in the Suzuki Midnight Sun Run.