Registration and entry fee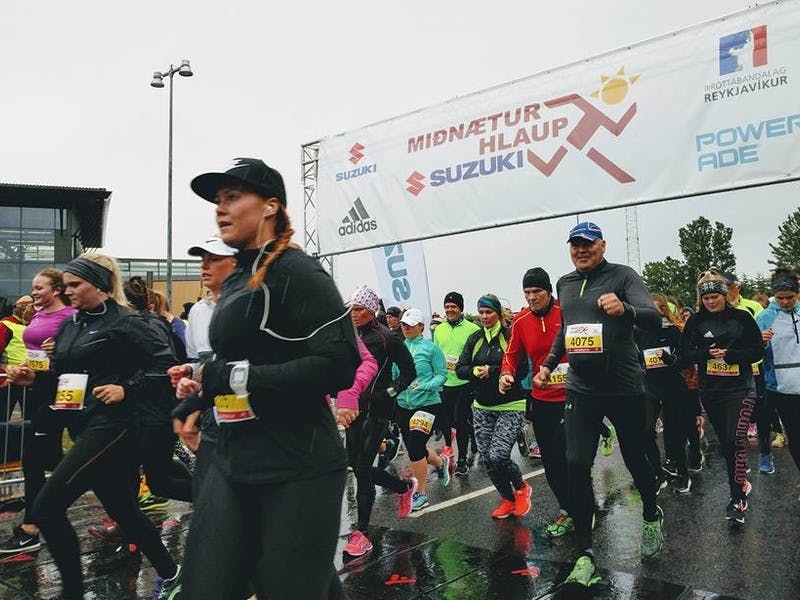 Registration for the 2020 Suzuki Midnight Sun Run has opened and will be open until midnight on Wednesday, June 24th. It will also be possible to register at the race number pick up at Laugardalshöll sports hall.
It is possible to register for the following distances: 
Entry fee
The entry fees are in Icelandic Krona (ISK). Online registration ends at midnight on Wednesday, June 24th 2020.
Distance
Early bird - 20% discount Jan 11th - Apr 2nd
Pre registration Apr 3rd - Jun 24th
Late entry - 20% higher fee Jun 25th
Half marathon - 20 years and older
3.720 ISK
4.650 ISK
5.580 ISK
Half marathon - 15-19 years old
3.280 ISK
4.100 ISK
4.920 ISK
10 km - 20 years and older
2.480 ISK
3.100 ISK
3.720 ISK
10 km - 12-19 years old
2.080 ISK
2.600 ISK
3.120 ISK
5 km - 20 years and older
2.000 ISK
2.500 ISK
3.000 ISK
5 km - 19 years and younger
1.560 ISK
1.950 ISK
2.340 ISK
Included in the entry fee
Finishers medal
In the registration process, participants can choose to buy a finishers medal or not. The fee for the medal is 500 ISK.
Terms
When registering for a race organized by the Reykjavik Sports Union, all participants must check a box to confirm their acceptance of the general terms and conditions of the race. Registration is not possible unless the box is checked. Click here to read the terms and conditions and here to read the Reykjavik Sports Union privacy policy that is an impenetrable part of the terms.
Payment
Online registration requires credit card payment. Only VISA and MasterCard credit cards are accepted. Note that you will receive a receipt from [email protected] when registration is finished. If you do not receive a receipt the payment and registration have not gone through. Please contact us through [email protected] if you are having any problems regarding payment and registration.
No refund
Please note that like stated in the terms the Suzuki Midnight Sun Run registration fees cannot be refunded or deferred to other events or years.
Name changes
Name changes are allowed while on-line registration is open, not at the race packet pickup. To make a name change on registration the registered participant has to send an email to [email protected] with information about name, date of birth, nationality, email and telephone number of the person that is taking over the registration.
Receipt
Runners are kindly asked to bring their receipt with them when picking up the race package on race day, it will speed up the process. The receipt was sent by e-mail just after the registration. It is also possible to find the receipt on "your page".
Distance changes
Participants can change their distance online at "your page – the runners page" until midnight on June 24th 2020. It is also possible to change the distance on race day when picking up the race package. No change fee is collected but if the new distance entry fee is higher participants will have to pay the difference. 
Your page
Your page is the runner's page where the runner can view his/her registration, change personal information and change to another distance. It is also possible to print out a receipt and a finisher certificate on your page. Further information can be found here. 
Groups
In the registration system, you can register a few runners at a time. It is though not recommended to register more than five in one registration. Companies that want to register 10 or more participants can get help through the e-mail [email protected].